By Clint Sharp | United States
The popular outdoor brand YETI Coolers has made headlines over the past few days over allegations regarding their relationship with the National Firearms Association. The notorious right-wing interest group posted a letter to one of their many NRA sites Saturday morning, stating:
"Suddenly, without prior notice, YETI has declined to do business with the NRA Foundation, saying they no longer wish to be an NRA vendor and refused to say why,"

(Read the full statement here)
Impacts of the Statement
This statement has caused great uproar amongst YETI consumers as many of them are sympathizers, if not full-fledged members, of the NRA, resulting in calls to boycott the brand entirely for their alleged actions. This is not the first call to boycott as other companies such as Delta Airlines and Enterprise Rent-A-Car have confirmed that they will cut their ties with the NRA. This sudden abandonment of the association is due to the association's recent stance regarding guns following the shooting at  Marjory Stoneman Douglas High School in Parkland, Florida two months ago.
YETI had yet to release a comment on the NRA accusations until Monday afternoon when it posted this statement on the company's Twitter page: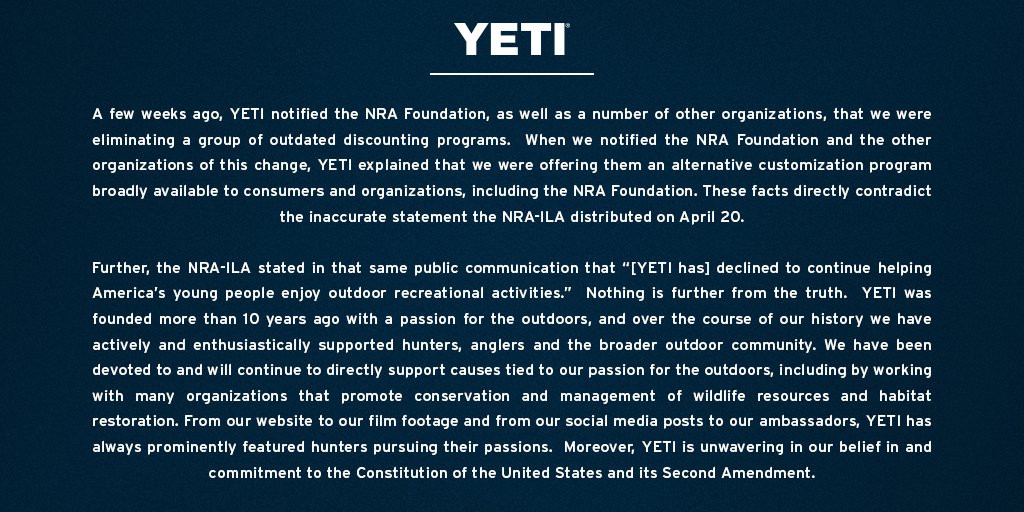 The aftermath of YETI's statements have yet to be seen, however, it is uncertain if the proposed boycotts will continue to follow through, or if YETI will retain its position as a sporting goods giant. Until then, the National Rifle Association has a bit of explaining to do regarding their vicious and unchecked libel, bringing to question their motives and goals as an interest group.