By Trey Johnson | Venezuela
Millions of Venezuelans escape a country destroyed by bad government and coercive collectivism.
The border of Colombia and Ecuador is full of Venezuelans who are doing their earnest to escape the clutches of a coercive regime in search of free markets and better opportunities. Common tourists, amongst the droves of Venezuelans, must wait hours and hours in a line that wraps around the immigration office here in Ipiales, Colombia. During peak days, it can take over 24 hours to cross the border between Colombia and Ecuador.
The border crossing's elevation is 2898 m (9500 ft), which makes the experience a rather cold one as nighttime approaches. Individuals in line are able to stay warm with the help of vendors selling coffee, hot dogs, and empanadas.
Most South American countries have no choice but to allow free movement of these refugees due to treaties signed by UN member states. The strain of this situation hampers economic stability and the free flow of goods and services due to long lines at the border.
While in the line, one can also learn of the tragedies affecting the people of Venezuela and understand why they are leaving their beloved homeland. Men and women full of fond memories and past success, now crushed by coercive collectivism. Doctors, welders, and professionals of all sorts are throwing away their experience to land a job in a neighboring country, hoping to make the minimum wage of $300 per month in favorable countries such as Chile and Peru. Ecuador and Colombia are not desirable, and Brazil's language barrier makes the destination unattainable.
To date, an estimated 4 million Venezuelans have left the country. Hyperinflation is the sole reason these people have left. "There is a lot of work, but there is no money." The minimum wage is currently 2,000,000 Bolivars per month which equates to $3 USD per month. That is $36 per year. The price of a kilogram of beef in Venezuela is $3 dollars and the price of shampoo is also $3.
To make matters worse, the Venezuelan government instituted new currency controls on money entering the country through financial institutions. In order to send money to your family members stuck in Venezuela, you must have a bank account in both Venezuela and an outside country. One refugee believes this policy is "choking the people."
The current administration's new constitution would completely eliminate the ability to own private property. This market uncertainty makes investments impossible.
The people who are working to stay in the country are almost at the end of what seems to be the brink of collapse. Schools are functioning, but they have no food to feed their students. Most of the faculty members leave the schools in search of new opportunities. Revolutionaries like the violin playing patriot and Oscar Pérez have become heroes to Venezuelans trying to take back their country.
The Venezuelan regime is continuing to provide a box of food to each family in accordance with its collectivist agreement. This box is called CLAP and contains two packages of flour and rice along with powdered milk "if you are lucky." The frequency of these food distributions is about once every 5 to 6 months according to a refugee waiting in the 24-hour line.
One wealthy Venezuelan had a stable career for over 15 years. He had a house, a car, and "a whole complete life." He went on trips with his family inside and outside the country. Right now he is busy moving groups of Venezuelans to more favorable environments scattered throughout South America. He understands the attraction of collectivism and believes "the Venezuelans have to learn the lesson."
A Colombian bus driver passes and asks, "are you going to Cúcuta?", a town on the border of Venezuela and Colombia, 32 hours in the opposite direction from this particular crossing.
It is truly a sad state of affairs for the people of Venezuela who slowly lost their grip on freedom and their country. Experts believe it will take 30 years to bring this country back to its former self. Many Venezuelans will most likely never return to their homeland, which is but another civilization lost to socialism and coercive collectivism.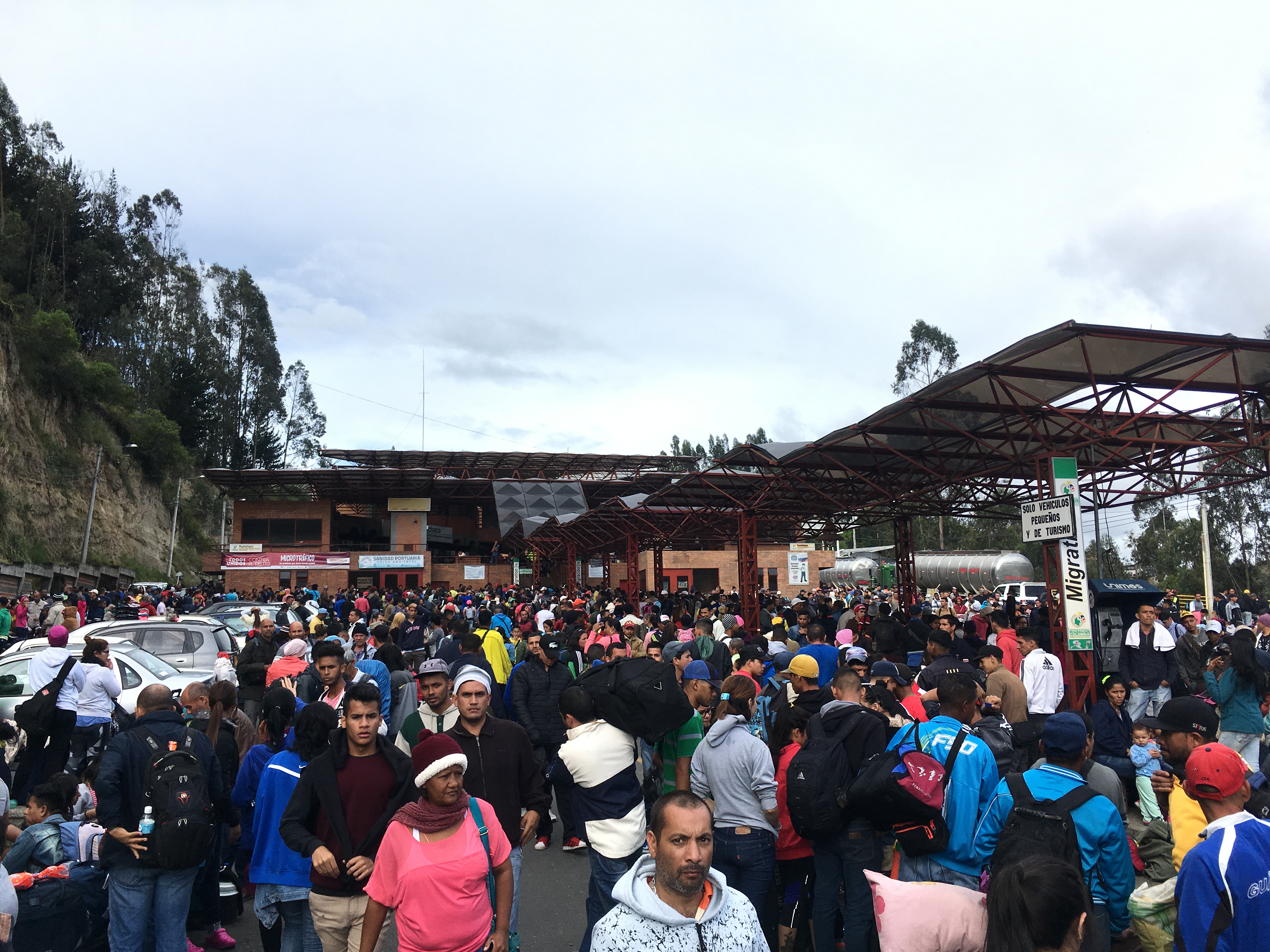 ---
Get awesome merchandise. Help 71 Republic end the media oligarchy. Donate today to our Patreon, which you can find here. Thank you very much for your support!