Michael Ottavio | United States
On Wednesday, President Donald Trump formally recognized Venezuela opposition leader Juan Guaido as the legitimate "interim president" of Venezuela. This comes as yet another slap to the face of Nicolas Maduro, the recently elected president of the country. Maduro had served as president since 2013.
Trump said in a statement this afternoon, "In its role as the only legitimate branch of government duly elected by the Venezuelan people, the National Assembly invoked the country's constitution to declare Nicolas Maduro illegitimate, and the office of the presidency therefore vacant. The people of Venezuela have courageously spoken out against Maduro and his regime and demanded freedom and the rule of law".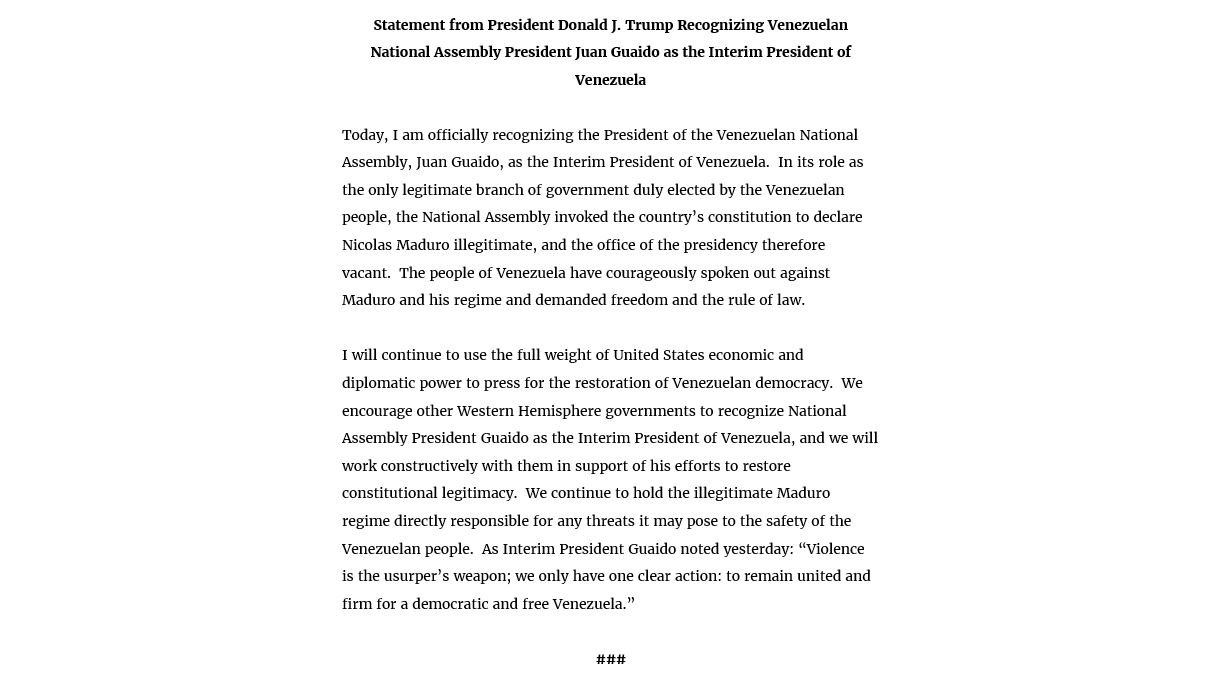 Out with Maduro, In with Guaido
This move comes after the Venezuelan National Assembly ruled Nicolas Maduro's presidency illegitimate. This, therefore, left the Venezuelan presidency vacant. To fill the vacancy, opposition leader Juan Guaido declared himself the interim president. Maduro, who was sworn in for a second term earlier this month, immediately had his election labeled as fraudulent by other nations. Guaido, who rose to the top of the opposition, was arrested shortly after he proposed to take power. However, authorities released him soon after. The incident speaks to the disregard for the rule of law in the Maduro regime.
This move was not a surprising one from the Trump administration. Strong sanctions and heavy criticism of Maduro's regime were all meant to bolster the opposition. It is also worth noting that Maduro has been responsible for destroying Venezuela's economy and countless human rights violations.
Trump is now urging other nations to support Guaido and the opposition party. He states that the country "will continue to use the full weight of United States economic and diplomatic power to press for the restoration of Venezuelan democracy."
---
71 Republic is the Third Voice in media. We pride ourselves on distinctively independent journalism and editorials. Every dollar you give helps us grow our mission of providing reliable coverage. Please consider donating to our Patreon.